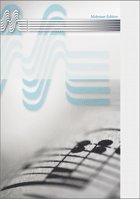 Sixpack Suite
All 6 movements in one!
Door Johan van der Linden type 70 en thema Original Compositions
Sixpack is a serie of pieces for six alto saxophones. Also good playable for six soprano saxophones, six tenors or even baritone saxophones. It is also possible to double each part. Look for all 6 parts seperately on the website!
Composer
Johan van der Linden
Arranger
Series
70
Theme
Original Compositions
Complete set:
97.17
Score:
Article number:
060915050
Difficulty:
5
Duration:
Available:
yes
---